Vice Admiral

Posts: 3830
Joined: Sat Apr 19, 2008 3:22 pm
Gender: Male
Location: Birmingham
Contact:
Sorry mate, that's what I had this morning, it was well nice.
---
Vice Admiral

Posts: 1168
Joined: Sun Jan 20, 2008 9:00 pm
Gender: Male
Twitter: http://www.twitter.com/berkmanlord
Location: Turkey
Contact:
Your reply is not helping! Hahaha
---
Captain

Posts: 1051
Joined: Fri Oct 21, 2011 6:12 pm
Gender: Male
Twitter: https://twitter.com/stevesmediasolu
Facebook: https://www.facebook.com/srw1966
Location: From Leeds, live in Scarborough
love cafes with clean tables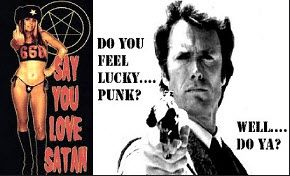 Dip me in honey and throw me to the lesbians!
---
SWO

Posts: 1352
Joined: Thu Jan 31, 2008 2:26 pm
Twitter: http://twitter.com/ohsosharp67
Plates are round
R.I.P WhiteWolf69
Goodnight Ma xxx
---
Vice Admiral

Posts: 3830
Joined: Sat Apr 19, 2008 3:22 pm
Gender: Male
Location: Birmingham
Contact:
Plates can be any shape you conformist twat.
---
SWO

Posts: 1352
Joined: Thu Jan 31, 2008 2:26 pm
Twitter: http://twitter.com/ohsosharp67
Fuck off you northern heathen.
R.I.P WhiteWolf69
Goodnight Ma xxx
---
Vice Admiral

Posts: 3830
Joined: Sat Apr 19, 2008 3:22 pm
Gender: Male
Location: Birmingham
Contact:
Fuck you big nose.
---
Vice Admiral

Posts: 1585
Joined: Sun Sep 19, 2010 8:40 pm
Twitter: Tw@tter? No - I'd rather die
This is hysterical.
Amazon Veet Mens Hair Removal
Top Customer Reviews
5.0 out of 5 stars
DO NOT PUT ON KNOB AND BOLLOCKS By Andrew on 24 Jan. 2012
Being a loose cannon who does not play by the rules the first thing I did was ignore the warning and smear this all over my knob and bollocks. The bollocks I knew and loved are gone now. In their place is a maroon coloured bag of agony which sends stabs of pain up my body every time it grazes against my thigh or an article of clothing. I am suffering so that you don't have to. Heed my lesson. DO NOT PUT ON KNOB AND BOLLOCKS.
(I am giving this product a 5 because despite the fact that I think my bollocks might fall off, they are now completely hairless.)
5.0 out of 5 stars
Veet -- the Men's Hair Removal Gel Creme (from hell) . . . By John W. Osborne Jr. on 30 July 2012
After having been told my danglies looked like an elderly rastafarian I decided to take the plunge and buy some of this as previous shaving attempts had only been mildly successful and I nearly put my back out trying to reach the more difficult bits.
Being a bit of a romantic I thought I would do the deed on the missus's birthday as a bit of a treat.I ordered it well in advance and working in the North sea I considered myself a bit above some of the characters writing the previous reviews and wrote them off as soft office types...oh my fellow sufferers how wrong I was.
I waited until the other half was tucked up in bed and after giving some vague hints about a special surprise I went down to the bathroom. Initially all went well and I applied the gel and stood waiting for something to happen. I didn't have long to wait.
At first there was a gentle warmth which in a matter of seconds was replaced by an intense burning and a feeling I can only describe as like being given a barbed wire wedgie by two people intent on hitting the ceiling with my head.
Religion hadn't featured much in my life until that night but I suddenly became willing to convert to any religion to stop the violent burning around the turd tunnel and what seemed like the destruction of the meat and two veg.
Struggling to not bite through my bottom lip I tried to wash the gel of in the sink and only succeeded in blocking the plughole with a mat of hair.Through the haze of tears I struggled out of the bathroom across the hall into the kitchen by this time walking was not really possible and I crawled the final yard to the fridge in the hope of some form of cold relief.
I yanked the freezer drawer out and found a tub of ice cream, tore the lid of and positioned it under me. The relief was fantastic but only temporary as it melted fairly quickly and the fiery stabbing soon returned.
Due to the shape of the ice cream tub I hadn't managed to give the starfish any treatment and I groped around in the draw for something else as I was sure my vision was going to fail fairly soon. I grabbed a bag of what I later found out was frozen sprouts and tore it open trying to be quiet as I did so. I took a handful of them and tried in vain to clench some between the cheeks of my arse.
This was not doing the trick as some of the gel had found it's way up the chutney channel and it felt like the space shuttle was running it's engines behind me.This was probably and hopefully the only time in my life I was going to wish there was a gay snowman in the kitchen which should give you some idea of the depths I was willing to sink to in order to ease the pain.
The only solution my pain crazed mind could come up with was to gently ease one of the sprouts where no veg had gone before.
Unfortunately, alerted by the strange grunts coming from the kitchen the other half chose that moment to come and investigate and was greeted by the sight of me, arse in the air, strawberry ice cream dripping from my bell end pushing a sprout up my arse while muttering..." Ooooh that feels good "
Understandingly this was a shock to her and she let out a scream and as I hadn't heard her come in it caused an involuntary spasm of shock in myself which resulted in the sprout being ejected at quite some speed in her direction.
I can understand that having a sprout farted against your leg at 11 at night in the kitchen probably wasn't the special surprise she was expecting and having to explain to the kids the next day what the strange hollow in the ice cream was didn't improve my status...
So to sum it up Veet removes hair, dignity and self respect....... :-
5.0 out of 5 stars
It really works, but fit only for use by the lower classes.... By Thighslapper on 25 Aug. 2012
Having served with Orde-Wingate and the Chindits in Burma and suffered no end of painful infestations of my nether regions, Veet held no fear for this old comrade. Advanced years have resulted in a low hung sack and arthritis prevents diligent personal cleansing, with the result that Atkins, the Estate Manager has to regularly see to my Gruff-Nuts with the sheep shears to prevent me getting fly-strike. That, plus a desire to impress Lady Maude and spice up things for our diamond wedding anniversary resulted in my investment in this superior depilatory product. Frankly, the things the Japs did to me with a flamethrower pale into insignificance to the 4 hours following my diligent massaging of the gel into my undergrowth and puckered ring. Eventually the screams woke Jenkins, the Butler who was asleep sunbathing on the terrace, who thankfully raced to my aid with a selection of frozen products from the Visitor Centre. Unfortunately Lady Maude returned from her trip to Harrods to find a disturbing spectacle in the Study....... me lying akimbo with an Almond Magnum up my poop tube whilst Jenkins, beetroot red with sunburn, clad only in a thong and wearing pink rubber gloves was trying to manhandle an outsize condom full of slush puppy over my distended member. My ecstatic groans of relief did nothing to change her impression of the apparent bestial and unsavoury acts that she was witnessing. When I had recovered enough to converse in anything other than strangled screams I made the mistake of showing her these reviews, which unfortunately only served to confirm her belief she had been married to a closet pervert for the last half century. Divorce papers are pending and I fear the estate will have to be sold. I have a bald, scarred crotch, walk with a limp and have flashbacks worse than the jungle terrors of WW2. Be warned, this product is not for the unwary.
3.0 out of 5 stars
LOCATION LOCATION LOCATION By The Cantankerous Tiger on 17 April 2012
I like the clean shaven look down in my gentleman's log cabin, so for the past few years I've used a shaver. However the hair keeps growing back which means every 6 months I have to spend 20 minutes trimming again. As I'm sure you've realise this is valuable time I cannot waste. So I decided to get to the root of the problem and purchased this product.
Probably the first thing you will notice after using this product is the pain. Although as a man I lack the required experience, I'm going to estimate that using this product is at least eleven times more painful than childbirth.
Imagine sticking a rusty razor blade into your favourite eye, before tying your hands behind your back. Then imagine that you use the entrenched razor blade to slice open a raw onion. All the while being butt naked. This product is slightly more painful than that.
However if we ignore the blinding, crippling and debilitating pain I should point out that this product is remarkably effective. Before, all manner of organisms great and small lived down there, now nothing can grow; not even on a cellular level. Sadly this includes my genitalia; I've spent the last four hours staring fixedly at Carol Vorderman's arse, all to no avail. My tinkywinkleton hasn't even so much as perked up, so if my review seems a bit harsh, it's only because I wanted children.
In summary:
Pros: A small expense, certainly didn't burn a hole in my pocket.
Cons: Did burn a hole in my scrotum
All in all an effective and reasonably priced product - 3 Stars.
"When you pour water in a cup, it becomes the cup. When you pour water in a bottle, it becomes the bottle. Water can drip, water can crash. Become like water my friend."
Bruce Lee.
---
Petty Officer

Posts: 57
Joined: Fri Nov 20, 2015 2:03 pm
Gender: Male
i havent laughed so much for ages my sides where splitting i was in agony laughing so much thanks
---
Vice Admiral

Posts: 2748
Joined: Sun Mar 08, 2009 12:39 pm
Gender: Male
Location: Over the hills and far away
Contact:
Awesome reviews, just sprayed my tea all over the table laughing!
aka EvilB@stard
Insurgency Config maniac
Putting my hacks on your PC
---
Who is online
Users browsing this forum: No registered users and 2 guests