Forum Guide
Forums are a pretty simple place, once you know what you are doing. But I suppose it can seem daunting if you don't. This thread is meant to give a brief "How-to" on what forums are and how to tackle them.
Basically forums are a place to chat about stuff. Whatever you want. Usually this is done under topics/headings. Like you can see on our forum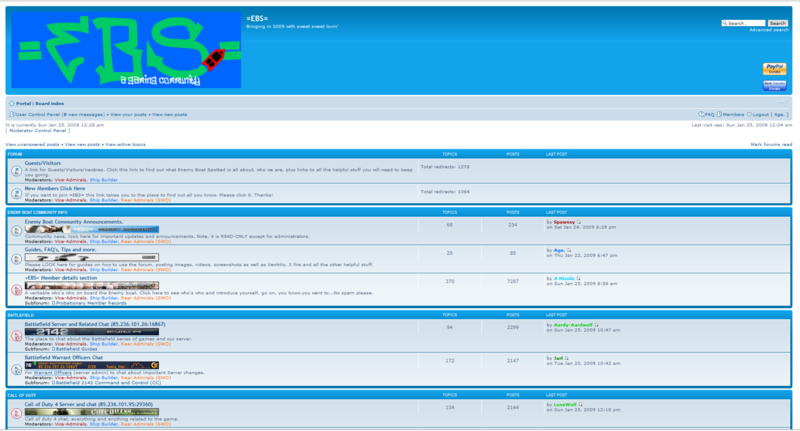 I've used userbars to make them easier to differentiate between.
As you can see we have topics (e.g. Enemy Boat Community Announcements, Call of duty, Battlefield, WOW chat and all sorts of other headings) and an explanation of what each topic means.
Within that you have "threads" which are essentially conversations that a person starts that others can reply to. It can be anything, for example a funky story you read or a screenshot of something that happened in a game.
The First cool new feature you might notice is the Search Bar on the banner, very handy for finding things with ease:
Next, and also on the banner you can see a few options
"view your posts"
"View new posts"
and
"View active topics"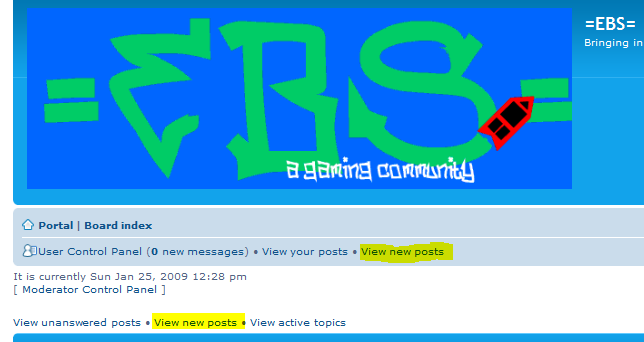 Again handy ways to keep up with recent posts
And your own too.
Again on the banner you can see
USER CONTROL PANEL
or User CP as i like to call it. Click on this to view your PM's, profile and friends and foes: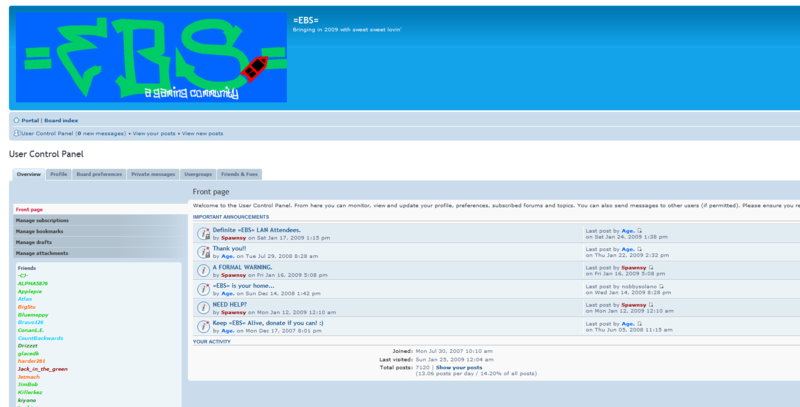 In
Edit Profile
you can change all sorts of things. Occupation, interests, etc. but most importantly, your
X fire address
. A standard that is
http://www.xfire.com/profile/
its just a case of adding your own, for example mine is
http://www.xfire.com/profile/agewills
this will allow people to add you as a friend
(see the
X fire guide
for more detail on this. You might also notice an option to add your
steam community page
as well as the option to add an
Avatar
, you can see more on what to do with avatars
here
Also add your
Date of birth
here for a little surprise later.
Next to
User CP
you should see this:

You should see (0 new messages), if you don't then that means you have a new message!! Click it to see who loves you.
Within
User CP
is the
PM box
, here you can send messages to people. This can be done via their profile (see later), by clicking on their name in the forum or by simply adding them to the message in the same way you would do to send an e-mail. Then just type them a message and press
Submit
Next in
User CP
Is the Friends/Foe's section, here you can add friends and foe's (do'h!)
I wont spoil the surprises that entails, go look for yourself.
At the very bottom of the Forum front page you can see the
Who is online
box.
This is next as it shows you who is online, who has been online and who the newest member is. You can click on their names to see their profile and send them a message.
Oh look its someones birthday! (you can also see upcoming birthdays too!)

Stick your D.O.B in your profile and this could happen to you too!
This is what happens if you click on Beserker:

You can see his profile, the number of posts he has made, send him an e-mail or a PM.
Now down to the nitty gritty.
Posting something.
As you hopefully know, you can either start a "topic" or reply to one. If you want to start a new one, pick the right forum, then click
NEW TOPIC

Alternatively, look at one that has already been made and click
POST REPLY
Then much like sending a PM, its just a case of writing what you have to say and clicking SUBMIT

Alternatively, use Quick Reply, which opens a small box at the bottom of the forum and you can type your reply in there.
Use the smilies on the side and the other goodness in the tool bar like URL Tags or fonts or colours.
Notice the boxes up above?
You can do lots of things to posts, you can add videos, links, pictures, sounds, you can make your words
colourful
or
huge!
Usually you will find that if you click any of those buttons you get something like this
it is important to note that you need to put the text you want to change inside the box, so it would look like this
You can do cool things too, say for example i wanted to post you a link to a picture i took and put it up on my Deviant art account, i could just paste it in:
http://ageuk.deviantart.com/art/the-wise-cat-64571873
but then, i could make it look neater by doing this:
Code: Select all
[url=http://ageuk.deviantart.com/art/the-wise-cat-64571873]Click me[/url]
this would make it look like this
click me
instead of the long horrible thing it is. Alternatively, you could right click on the image and see what the URL is for it, then wrap it in