Ennemy boat spotted herr kaleun !
The year 2019 was a good millesime for WW2 sub sims, with 2 quite interesting games put on sale in Steam. Both interesting, but obviously very diferent by many aspect, although obviously inherited from the Silent Hunter series.
Uboat
is rather oriented to sub/crew management, with a superb career mod .... but like most SH, it is a pure stand alone ( multi are possible in some SH, but crap )
The other,
Wolfapck
, is the only multiplayer WW2 subsim I have ever played that offers a good net-code, that is working fine online while retaining the highest quality of game experience.
Wolfpack was developped to allow to a handfull of player to hold the several stations available in a modelised U-Boot : Captain, Radio/hydrophones, helms, ballast, engine, periscopeS etc .... And more, it is possible to split and sail up to 5 U-Boots on the same map !
In other words, the game is dedicated to play
the same tactics that the U-Boots were using against allies convoys during WW2
Once the mission lauched, the das Boot spawns in the surroundings ( no visual ) of a convoy. Actually, mission parameters are .... few : 3 lvls of meteo going from clear to foggy and 3 lvls of difficulty that in fact only change the number of escort ships and the tons to sink to succeed..... That's all !
Happily, the physics, are very good, and you can feel it through the sub instruments hydrophones, periscope, UZO, TDC ... everything works fine and contribute to a ... deep immersion. Immersion that get heavy chances of becoming definitive when at the fist torp explosion, you can hear the sonar and escort propellers becoming louder and louder ... until a "splash" is informing you that depth charges are in the water.
However, a good captain can dodge the wolf hunters and get rid of them with patience, cunning, and self-control.
Another very nice aspect of the game : a superb nav map is delivered with a complete set of virtual tools - directly inherited from the best SHII mods
- that would allow to simulate navigation and target motion calculation .... "would" ??? yes "would". "Would" because in the actual state of the game it is useless. With missions starting just a few minutes of travel to visual spotting ( if not in direct view ), a few seconds of listening the hydrophones are enough to know where to go.
Let me explain : when I'm using the hydrophones at mission start, I already have to set the gain to 5 on an exponential scale of 10, so much the enemy propellers are close, thus loud. And most of the time I have to scale down to 3 or less to get an accurate bearing... it just means that the hydrophone are under exploited in the game, as the role of this tool is to detect ships from dozens ( hundreds in reality ! ) milles away
So, what's left to make the game enjoying ? the torp management ! Aka, UZO + Attack periscope ( observation presicope is useless ) + TDC + Identification + speed & disctance measurement ... all functions that are either directly in the hands of the captain, or depending from the datas he his collecting through the optics and chronometers.
So very few left to the other crew members for an active and intense role.
Reason why, imho, I prefer to sail alone as a captain, with a crew of bots.... but I would find it even enjoyable to share the mission with a bunch of other captains, so that we can play like a real ... wolfpack
So if you want to try it, be warry that the game is still in early access, and a lot of features are missing ... but hopefully to come :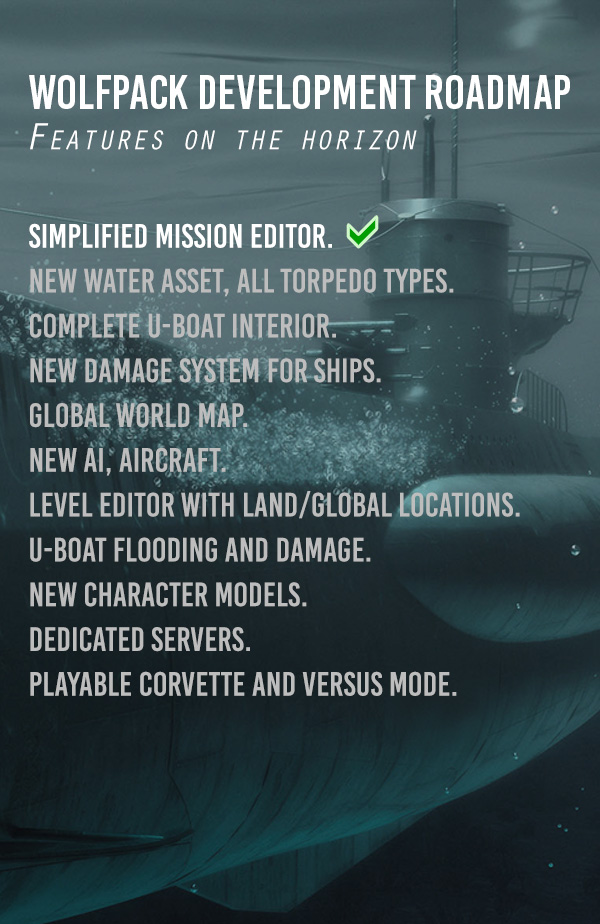 One of the most noticeable is the project for a playble escort ship !
But I'm already missing one that doesn't seem to be planned : collective missions with common tonnage to sink for a group of U-Boots
Tons of informations and more on
subsim.com